Friday night's 4-1 victory at Almeria did not produce a vintage performance from Real Madrid, but it did produce another three points to stretch the European champions' winning streak to 20 matches in all competitions. For a change, Madrid won ugly, and that is far from a bad trait to have for a team with eyes on every prize this season.
The scoreline didn't really reflect the true story of the game, but for the Liga leaders to contemplate a below-par performance and still register a 4-1 win on their travels shows just how high their standards have been set this season.
Madrid were sloppy, perhaps with one eye on this week's Club World Cup and perhaps awaiting the winter "break" following an intense few months. Cristiano Ronaldo seemed distracted but still managed a late brace of goals to make it 25 in the league this season. Quality, as Carlo Ancelotti said in his postmatch press conference, shone through.
The Italian rightly focused on the good pressing performance of the hosts after the match, but he was also aware of the errors his side made. While he will seek to fix those mistakes quickly, he will also take pleasure from the fact his side did not have to hit anywhere near top gear to secure victory. This season's road will be long and winding; Madrid will need to win matches in this manner again, as not every game can produce the flowing and free-scoring manner that has been their hallmark.
"It is impossible to play well in all the games," Carlo Ancelotti said back in 2009 when he started his managerial stint with Chelsea.
"Sometimes we can win with other characteristics. We can't always play the best, we have to win without playing well. This is another important thing for a team." For Chelsea then, read Real Madrid now. The teams may be different, but the ideals are the same.
Barcelona's failure to win ugly in the cold and rain of Getafe on Saturday afternoon was timely. The 0-0 stalemate means that Madrid will finish 2014 top of the table regardless of what happens next weekend when they are away on Club World Cup duty. Luis Enrique's side could have led the way had they won their final two league matches before the winter break, but now they will trail Madrid by at least one point — Ancelotti's men will also have what could be a crucial game in hand.
Ironically, the Barca boss also made mention of the fact that teams must win ugly to be successful after his side came through a tricky game of their own at the Estadio de los Juegos Mediterráneos earlier this season. While Madrid played badly on Friday and won, Barca did the same a day later and could only muster a point when they were desperate for all three.
Madrid have not always mastered the art of winning ugly. In years gone by, slipping up in matches that were seemingly comfortable on paper was relatively common. Last year Ancelotti tightened those slips — a draw at Osasuna and defeat in Seville were the only real results of concern, though these lapses came toward the end of the season with the league seemingly out of reach and the Champions League taking priority. This season, a loss at Real Sociedad was the only real surprise and that came at a time Madrid were back finding their feet after the World Cup and some significant changes to their squad.
Now the European champions look capable of winning with aplomb, as they did in Deportivo and against numerous other suffering sides this season, and by playing badly. It should please Madrid fans, especially because these below-par performances and victories have come at a time when injuries are mounting. Real's midfield has been key this season, and the on-song Luka Modric and James Rodriguez have been missing in recent weeks. Sergio Ramos was also absent on Saturday, and players such as Toni Kroos have admittedly felt the load of the recent fixture congestion.
While players should return refreshed in January, albeit with the unwanted friendly match against AC Milan in Dubai at the end of the month, there will be plenty of tests ahead. Madrid face a manic first month of 2015 with tough league games, including a year opener at Valencia, and a possible quartet of games against Atletico Madrid and Barcelona in the Copa del Rey.
Ancelotti's men will look to become the first side to successfully retain the Champions League and will also look to reclaim La Liga. The run-in will not be for the fainthearted, and that is why the art of winning badly is crucial.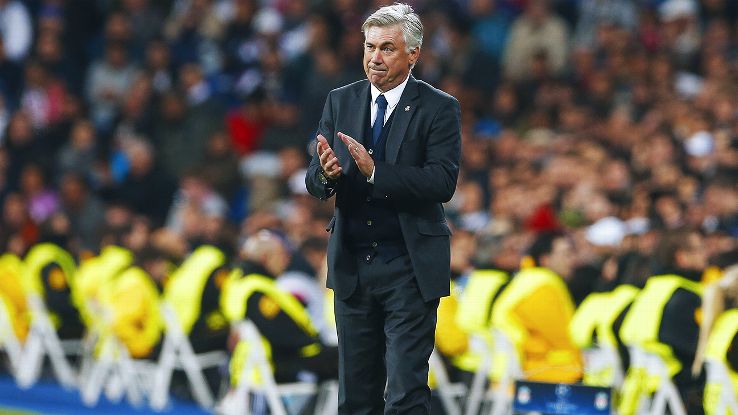 In part, their ability to sneak results comes down to the confidence instilled from winning an unprecedented 20 games in a row. One must also credit Ancelotti's clever rotation that was met with some confusion at the start of the campaign. From Keylor Navas to Raphael Varane, Asier Illarramendi, Alvaro Medran and Javier Hernandez, Ancelotti has used his squad with intelligence so far, and that quality will be crucial at the "business end" of the campaign. The Italian is lucky to be blessed with arguably the best squad on the planet, but to use that squad effectively is not a foregone conclusion. So far everything has gone to plan.
The majesty of Madrid's play will bring more high-scoring victories and more plaudits from the traditionally tough-to-please Bernabeu crowd, but Madrid fans should accept the matches where the win is all that counts. Those matches like on Friday night where the job was accomplished without the bells and baubles. This is a Madrid that can win in more than one way, and that could separate them from the rest this season.